Rak High Commode Price In Bangladesh Best Guide 2023
Looking for a comfortable, sleek, and space-saving high commode in Bangladesh? RAK ceramics has brought several qualities of high commode at a very reasonable price. The article will tell you about rak high commode price in Bangladesh and more.
RAK (Ras Al Khaimah), one of the largest manufacturer companies of ceramics, is owned by Mr. Abdallah Massaad in the United Arab Emirates. They provide several varieties of lovely, unique-designed, and elegant high commodes all over the world. The well-known company was first established in 1989.
RAK high commode is widely available in Bangladesh. Here, we are going to tell you the 4 different rak high commode price in Bangladesh. So, without more intro, let's take a look at the main topic.
4 Different Model Of RAK High Commode In Bangladesh
RAK ceramics company makes several models of high commodes. Here, we take the best 4 comfort items that are widely used in Bangladesh. So, let's explore it together.
1. RAK White OASIS Commode
RAK white oasis commode is the most decorative toilet that contains a powerful flushing system. In such a case, you can save water time, and money. You can also check Rosa commode price in Bangladesh.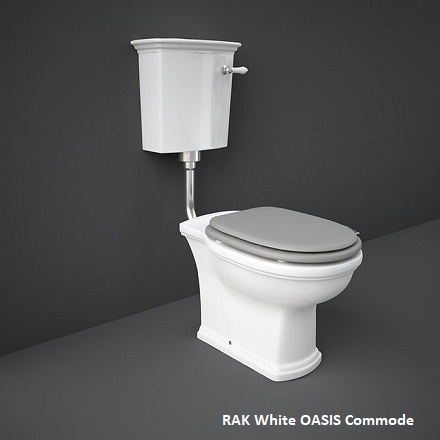 OASIS Commode Feature:
690 × 445 mm in shape, weighing 40 kg, and alpine white color.

Faster and harder flush.

Suitable for people with disabilities.
OASIS RAK High Commode Price In Bangladesh
RAK oasis high commode will cost you only 41,000 TK. It is available with a 10 years warranty card and 2 years on the flushing mechanism.
If you are finding a high-quality high commode that is higher on performance and versatile in design. It is ideal for both residential and commercial places and has easy maintenance.
You can purchase it from any RAK showroom in Bangladesh. Besides that, you can order it from their official website in Bangladesh. In this case, the cost may be a little more. 
2. RAK White METROPOLITAN Commode
A white metropolitan commode is another luxurious model from RAK ceramics that is widely available with dual flushing and a soft-close seat in Bangladesh.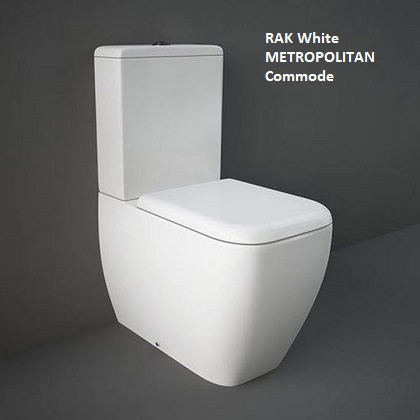 METROPOLITAN Commode Feature:
Rounded rectangle in shape.

Contains an ever-clean surface.

Suitable for tiny spaces.
METROPOLITAN RAK High Commode Price In Bangladesh
The RAK white metropolitan commode is found at only 18,000 TK in Bangladesh. You will get a 3 years warranty card while buying this product.
If you are looking for a modern but cost-effective and eco-friendly high commode, then we will suggest you get this high commode. It is comfortable for big-bodied people and also those people who are struggling with standing and sitting.
However, the high commode is widely found at any ceramics commode shop in Bangladesh. But it will be better if you purchase it from any RAK showrooms in Bangladesh.
3. RAK Star GALAXY Commode
RAK star galaxy commode offers the most powerful dual flushing system that helps to prevent excessive wastage of water. 0.9 or 1.2 gallons of water are used per flush.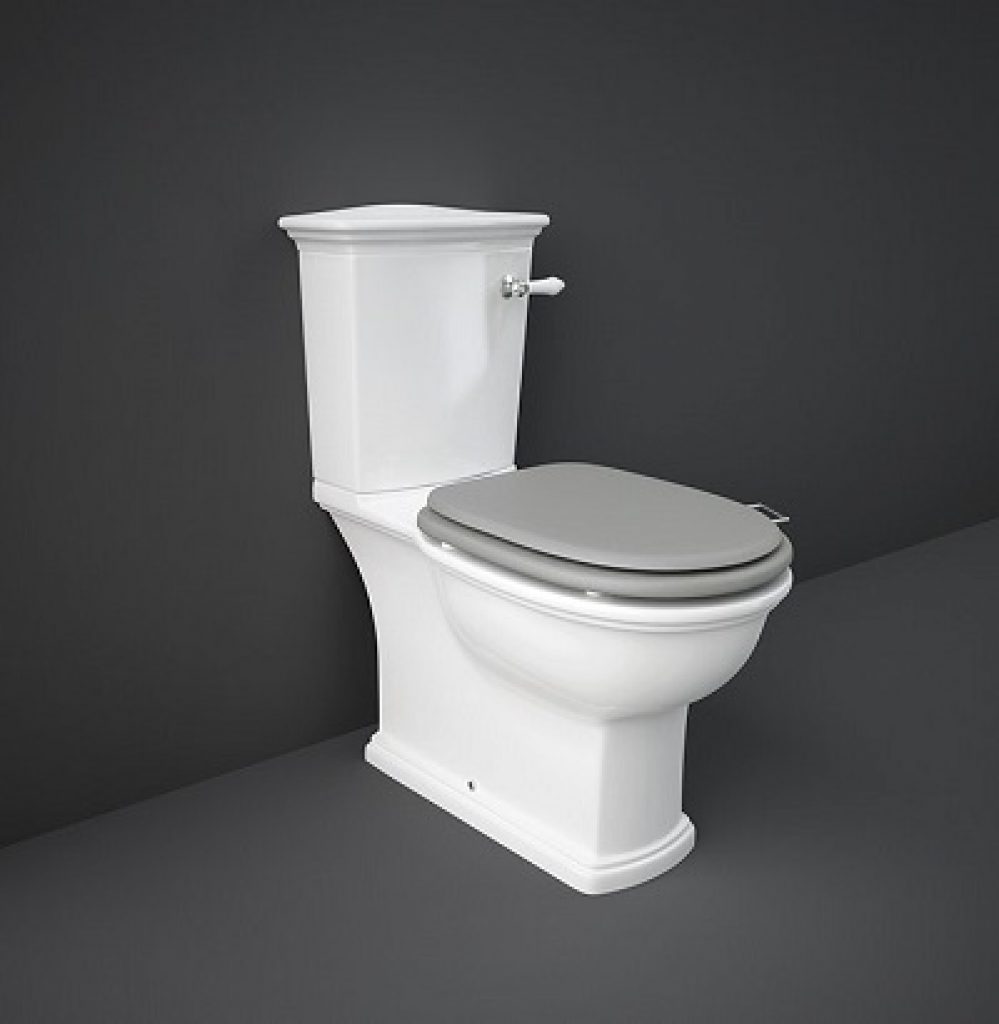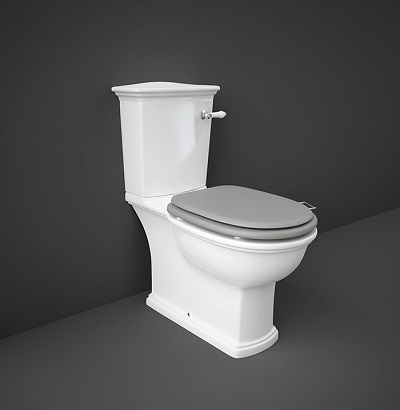 GALAXY Commode Feature:
Rectangle bowl shape.

Easy to keep clean.

High-effective flush.
GALAXY RAK High Commode Price In Bangladesh
RAK galaxy high commode is available with only 22,000 TK in Bangladesh. Moreover, it is sold with a 5 years warranty on ceramic parts and one year on flushing technology.
If you have seniors in your family or people with limited mobility, then it can be an ideal choice for you. Not just that, but it has a dual flushing system that lets users decide which water pressure is suitable based on solid and liquid.
You can buy this product from any RAK showroom in Bangladesh. RAK showrooms are mainly available in divisional cities in Bangladesh.
4. RAK White KARLA Commode
RAK white Karla commode comes with an innovative feature of automatic flushing action. In this case, you don't need to touch a bacteria-ridden toilet. When you remove yourself from the seat, the hands-free technology will flush your toilet for sure.
KARLA Commode Feature:
Bowl is oval.

Concealed trap way.

Comfort toilet height.

Wall-mounted toilet.
KARLA RAK High Commode Price In Bangladesh
RAK Karla's high commode will cost only 15,000 TK in Bangladesh. Aside from that, it is available with a 3 years warranty period.
If you have a small place to install a toilet, then we think the high commode is the best choice for you. In addition, it is easy to install and available with all the necessary pieces for installation.
You can find this high commode from any ceramics shop in Bangladesh. But our suggestion is to buy it from any official showroom of RAK ceramics in Bangladesh.
Everyone needs the best item and thinks that all high commodes are the same. But, it is not true. If you really want to get a simple, eco-friendly, and water-efficient high commode, then rak ceramics is the best option for you. Besides that, rak high commode price in Bangladesh is also reasonable.
Final word
Here, we explain the 4 best items of rak high commode price in Bangladesh. Quickly buy one and share your experience with us. Thanks for connecting with us.