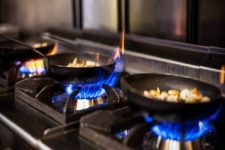 Top 5 Gazi Gas Stove Price In Bangladesh 2023
Do you want to turn your kitchen into an entertainment zone? Well, in this case, you need to select a Gazi product that is an affordable, innovative technology-based gas stove, and you can rely on them for sure. The article will tell you the top 5 Gazi gas stove price in Bangladesh.
Brand & Model:: Gazi- FFD-248C Switch: Touch Panel Panel Type: High-Quality Tempered Glass Burner: 130+130mm Brass …
A perfect gas stove allows you the highest flexibility while cooking consumes low gas and cooks in less time. So, cooking doesn't become too troublesome on busy days.
Now, I am going to tell you the top 5 Gazi gas stove price in Bangladesh and more. So, without more intro, let's view the main topic.
Top 5 Gazi Gas Stove In Bangladesh
Gazi company is considered one of the largest kitchen appliance companies in Bangladesh. Now, are you ready to find out which Gazi gas stoves I picked as a high-quality product? Let's check out this article together.
1. Gazi Smiss – P312 Gas Stove

This 2 burners gas stove is professionally constructed with a stainless-steel panel on the outside that is completely rust-resistant and durable.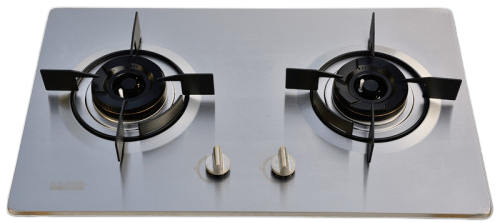 Aside from that, the burners are made of aluminum alloy and cook from a low simmer with high heat which can help in lessening the cooking time.
Gazi Smiss – P312 Gas Stove Feature
Rolling brass burner cap.

Smoothly operable knobs.

1-year warranty on the product.
Gazi Gas Stove Price In Bangladesh
This innovative, superb, and high-quality Gazi gas stove costs only 8,185 TK. It can be found in any local shop around your area or any reputable e-commerce site.
2. Gazi Cabinet Gas Stove Glass TG2-02 LPG
This gas stove is actually made as one in all and designed in such a way that can add elegance to your kitchen.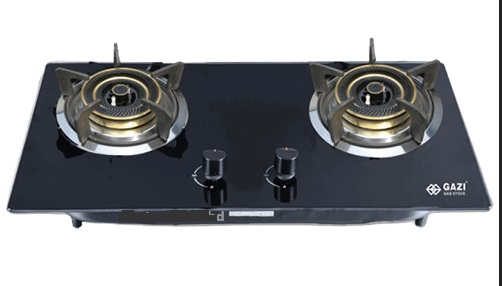 However, it has a break-resistant and toughened glass top that is 6 mm thick. The gas burners are less gas-consuming and can be easily cleaned with a soggy cloth.
Gazi Cabinet Gas Stove Feature
Autoignition system.

Blue flame without smoke.

2 years warranty for manufacturing errors.
Gazi Gas Stove Price In Bangladesh
A Gazi cabinet gas stove costs only 6,250 TK. It is widely available in any kitchen appliance shop in Bangladesh.
Apart from that, you can get this gas stove from any online site or their official website. In this case, prices might be changed.
3. Gazi Gas Stove, Model: HTG-1028B
This highly efficient gas stove is made of a powder-coated stainless steel metal base that can resist any types of rust, scratching, and high heat.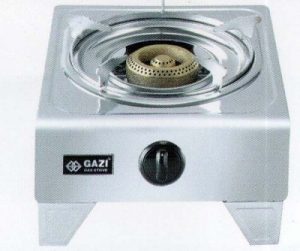 Furthermore, the burner provides strong flame during cooking and the legs are anti-skid that make sure not to be slipped if a heavy vessel is put on it.
Gazi Gas Stove HTG-1028B Feature
High-quality knob.

Sturdy finish.

6 months warranty period.
Gazi Gas Stove Price In Bangladesh
This prestigious kitchen product is available for only 1,099 TK in Bangladesh. It is found in any local shop or Gazi store. You will get 100 % pure products from these places.
4. Gazi Single Gas Stove Glass GST-110 LPG
This smart Gazi gas stove has one burner with a 4 mm toughened glass on top that is really easy to clean.
Besides that, it is a heavy-duty constructed product that can make a professional look in your kitchen and be fitted in any type of kitchen setup.
Gazi -110 LPG Feature
Can hold heavy vessels.

Auto electric ignition.

1-year warranty time.
Gazi Gas Stove Price In Bangladesh
The market price of Gazi – 110 LPG is only 2,280 TK. I have found some online sites where this stove is sold at a 19% discount. You can also check out from there.
However, no matter where you buy, always take the warranty card and call them whenever you face any problem.
5. Gazi Gas Stove, Model: D-105
This special gas stove has a premium, high-quality glass-top finish that can meet all your cooking needs and is really ideal for Bangladeshi cooking.
Moreover, it would occupy very little space in your kitchen zone. When it comes to cooking, you can enjoy a restaurant-like meal with whatever you cook with this stove.
Gazi Gas Stove D-105 Feature
Highly fuel-saving technology.

Spill-proof body.

6 months warranty.
Gazi Gas Stove Price In Bangladesh
You can buy this Gazi stove at only 4,199 TK from any Gazi store near your location. This stove is absolutely fine for bachelors or small families.
Besides that, this stove can not only make a charming look in your kitchen but also make an amazing cooking experience for you.
My Suggestion
You would find different types of Gazi gas stoves with multiple burners. Here, I pick only five items that have one and two burners.
I will recommend one burner gas stove for bachelors and small families. On the other hand, two-burner gas stoves are preferred by families with 6-7 members.
Hope you got enough guidance on the Gazi gas stove price in Bangladesh. Quickly select one, try it, and share your experience with us. Thanks for being with us.
Final verdict about Gazi Smiss Gas Stove and the Gazi gas stove. Yes, we must recommend this quality high temped gas burner system in Chula in Bangladesh. Gazi Smiss Gas Stove is a quality brand and highly recommended gas stove around Bangladesh. You might check all the features by buying this amazing gas system.