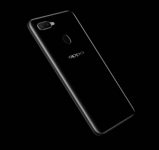 Oppo A5s Price in Bangladesh. Easy Explanation.
Another massive production by Oppo is their A5s model. This phone is special for many reasons. This phone is very much popular among the youngest people in Bangladesh and a number of new phone buyers are trying to know about this smartphone. For them, here we are going to describe Oppo A5s Price in Bangladesh in detail.
This article will be completely about the A5s model of Oppo. You will find a short description of this phone from here, about its memory, camera and also battery. So, without making any delay, let's start knowing this information. Oppo A5s Price in Bangladesh.
Oppo A5s Price in Bangladesh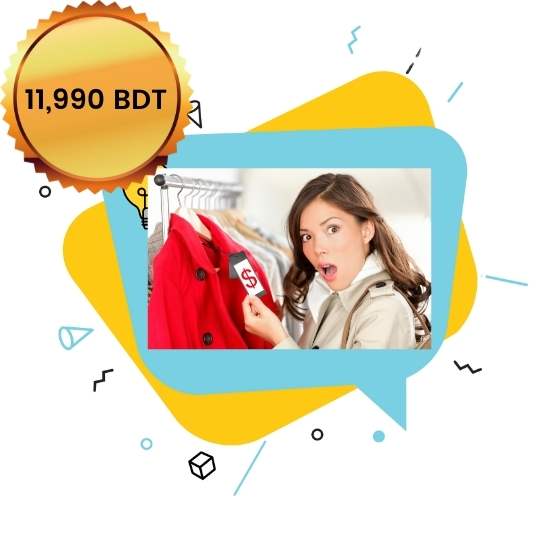 In brief, I want to say that the A5s model of Oppo is a low-budget phone in Bangladesh. You will get this phone at a reasonable price. Oppo A5s Price in Bangladesh.
At the time of release in April 2019, the official price was almost 13 thousand BDT. That means, 12,990 BDT. But later this phone price was reduced by 1000 BDT. This was a massive change for this model. Now you can buy Oppo A5s only for 11,990 BDT.
This phone has no variation in any specification. So, it has no price variation in the market. This is the fixed price in Bangladesh. Sometimes the price changes from the seller to seller.
Some sellers want more benefits over the company commissions. They take more from the buyer. But the official price of this phone is 11,990 BDT.
The A5s phone is available in different online sellers or e-commerce like Pickaboo, Daraz, BDShop, and others. You may buy this phone from them.
Physical store is also a very good choice to buy this phone. And the Oppo official showrooms also provide the best service to their customers and take the official price from customers. You may buy this phone from any of the options.
Now you know Oppo A5s Price in Bangladesh. I hope you are satisfied.
Oppo A5s Short Specification
The specification is the best option to know about a phone. This section gives better information in short about a phone. As we are talking about Oppo A5s, we need to know the specification of this phone.
| | | |
| --- | --- | --- |
| Camera | Front Camera: 8 Megapixel | Back Camera: Dual 13+2 Megapixel |
| Memory | RAM: 3 GB | ROM: 32 GB |
| Price | Price: 11,990 BDT |   |
| Battery | Lithium-ion 4230 mAh |   |
Oppo A5s Short Specification
Oppo A5s Battery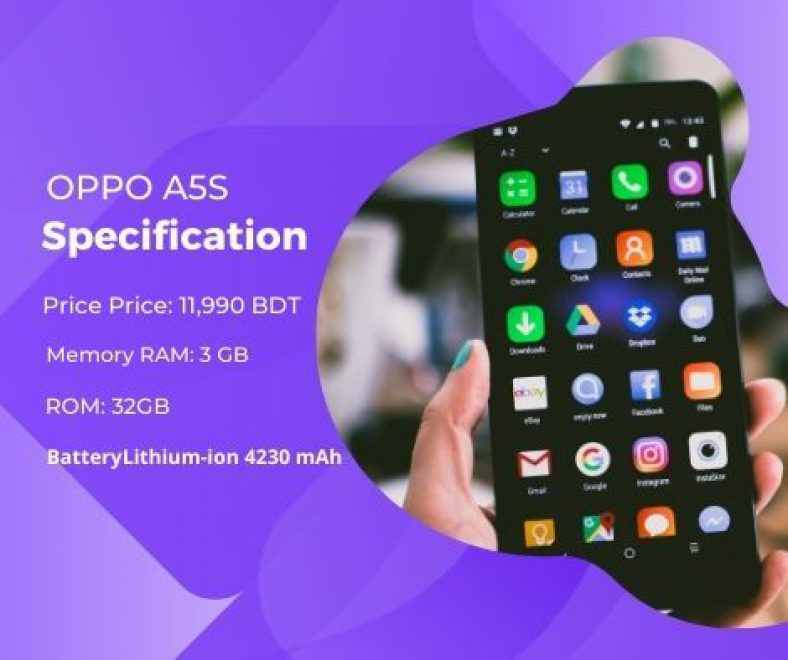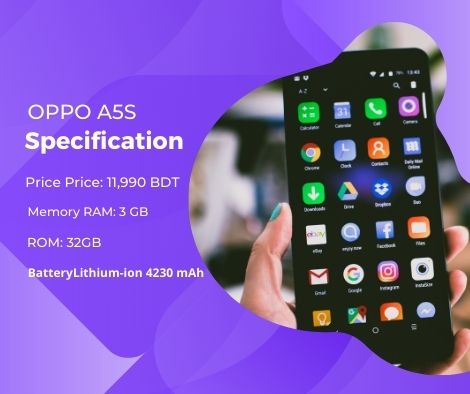 This model of the phone can be said to be the copy version of the Oppo A12 3/32 variation. But the main difference between these two Oppo phones is in design and color.
The battery of this phone is 4230 mAh. But unlike the present trend, this phone battery type is Li-Lion. This is also a non-removable battery.
If you want to know about the battery backup of this phone, then I can share my own experience with it.
This 4230 mAh battery will run your phone continuously for 12/15 hours of internet browsing or gaming. So, this is a very impressive battery backup for any user.
But if you are not a gamer or internet user then what may happen? If you love music listening or receiving calls only then the Oppo A5s will support you for 2 or 3 days very easily. This will be the best battery backup at this budget.
Oppo A5s Memory
You need memory for many reasons while you use the phone. It will run software on your phone, it will keep your data safe while working on the phone, and also it works like local storage of your phone. For all these reasons, you need more storage or memory.
In Oppo A5s, you will find 3 GB RAM to help your phone to run big software or games. You will easily run big-size software by this ram size.
This is the good side of this phone. You will love this feature of this phone very much.
The big size ROM is another option to love about this phone. In Oppo A5s, you will get 32 GB ROM or phone memory. This will allow you to install lots of software or games on your phone.
A 32 GB phone memory is really good enough for a phone. You will be able to use this space for many purposes.
Oppo A5s Camera
People love Oppo for its camera features. All of their users love them for the special camera quality. In their low-budget phones, you will find better quality cameras than any other brand's same price phones.
The back camera of Oppo A5s has dual cameras. It has one 13 MP camera and one 2 MP camera. The 13 MP back camera is the main camera of this phone.
You can record 1080p videos very easily. This is also very good for photo capturing. You may do very basic mobile photography.
Now the front camera. Oppo A5s has an 8 MP front camera to take quality selfies. You will love the selfie quality of this low-budget phone. No other brand has this type of camera in such low-budget phones. 
Conclusion
If you are a very basic user of cameras, batteries, and different software with phones, then this is a very good option for you. You will love this wallet-friendly oppo phone.
The Oppo A5s price in Bangladesh is very much good for the buyer's wallet. It will give the best features on a low budget. You may read about phones and other gadgets from our site. We publish articles on Oppo A5s Price in Bangladesh topics for your better buying experience.