Top 5 Canned Tuna Fish price In Bangladesh 2023
When looking for the best canned tuna product, there are many things to consider, and the flavor is one of them. Don't worry about it. The article will tell you the top 5 canned tuna fish price in Bangladesh.
Fresh tuna has become a very popular staple for kitchens in Bangladesh. However, tuna is more delicious, nutritious, convenient, and inexpensive when it comes in a can. Canned tuna is full of a great figure of lean protein, saturated fat, and vitamins.
Here, I am going to tell you the top 5 canned tuna fish price in Bangladesh and more. So, without further delay, let's look at the main topic.
Top 5 Canned Tuna Fish In Bangladesh
There are many options for canned tuna, some of them are packed in oil, and others are packed in water. Let's explore them together.
1. American Natural Tuna
American natural canned tuna is highly rated for its texture, flavor, nutrient ingredients, and incredibly affordable price. The taste is truly unique, and you would feel like they took the fresh tuna into the can from the sea.
American Natural Tuna Feature
185 gm.

Total 120 calories.

Followed the safely catching process of tuna.

Ideal for a ketogenic diet.
American Canned Tuna Fish Price In Bangladesh
American canned tuna is found in Bangladeshi markets at a very reasonable price. The price of 185 gm of American canned tuna is only 190 TK.
If you want to buy it at the wholesale price, the cost will be 120-130 TK per piece. You can purchase these types of products from any local shop or order them from any popular online site. However, in this case, there may be some difference in price.
2. Nautilus Lite Tuna Steak In Water
If you are looking for a safe and durable canned tuna product that tests all the harmful chemical elements during processing, then nautilus lite tuna steak in water can be the superfood for you. In a word, the product is perfect for you and your family.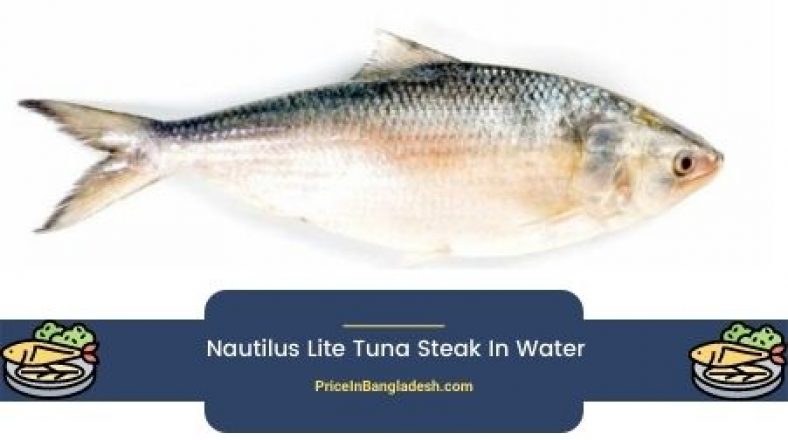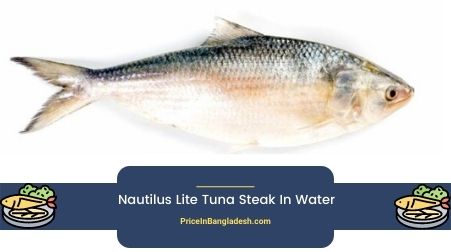 Nautilus Lite Tuna Feature
185 gm net weight.

Soy-free product.

Low in fats.

Perfect for different diets.
Nautilus Lite Canned Tuna Fish Price In Bangladesh
Nautilus lite canned tuna is not so expensive in Bangladesh. You can buy this fresh and sustainable one at only 200 TK from the nearest shop in your area.
3. Wild Planet Tuna
Wild Planet canned tuna is leading throughout the entire canned product. It is a delicious and healthy seafood rich in essential vitamins, proteins, and omega-3 fatty acids with low mercury levels. 
Wild Planet Tuna Feature
200 gm net weight.

Safety fishing method.

Harmful gluten-free product.

100 calories.
Wild Planet Canned Tuna Fish Price In Bangladesh
Wild Planet canned tuna is not commonly found in Bangladesh. So, it is a little more in the marketplace of Bangladesh. It is only 350 TK.
However, you can probably get one at any of the prestigious super shops, or order it from any reputable e-commerce site.
4. Nautilus Light Tuna In Soybean Oil
Nautilus light tuna in soybean oil is a good source of nutrition that is made of high-quality and solid pieces of tuna fish. The tuna stored in pure soybean oil provides the natural taste of fresh tuna.
Nautilus Light Tuna Feature
185 gm net weight.

Safe catching method.

210 calories.

Eco-friendly brand.
Nautilus Canned Tuna Fish Price In Bangladesh
Authentic nautilus canned tuna is widely available in Bangladesh at a very low price. Its price is only 180 TK and has a long expiry period.
Aside from this one, the brand provides another product of 250 gm that costs only 210 TK. You can buy this one for a long time.
5. Welcome Light Tuna In Pure Vegetable Oil
Our last but not least item is welcome to light canned tuna that is packed in pure vegetable oil, considered an iconic seafood in Bangladesh. It is perfect for those who are searching for a healthy tuna product without missing the tasty flavor.
Welcome Light Tuna Feature
Comes in cans of different weights.

Excellent aroma.

Extra salt isn't added.

Can be used in every dish.
Welcome Canned Tuna Fish Price In Bangladesh
This 100% pure and 170 gm light meat tuna with vegetable oil is available in Bangladesh for only 150 TK.
Besides that, there are also 200 gm and 250 gm jarred tuna. In this case, 200 gm costs only 180 TK, and the other one costs only 220 TK.
Our Suggestion
You will find a lot of brands in the market. While selecting one, make sure the can is BPA-free, and never buy a holed can. 
Pick the green ones and reputable brands that are following reliable fishing practices and focusing on mercury levels and ideal ingredients levels while packaging. 
Finally, enjoy your canned product, as canned tuna fish price in Bangladesh is really affordable.
Hope you get enough information on canned tuna fish price in Bangladesh. Next time when you go to the market, take a few boxes of canned tuna, try them, and share your experience with us. Thanks for connecting with us.