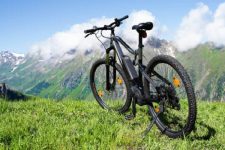 CB E-Fury Duranta Electric Bicycle Price In Bangladesh 2023
Are you looking for an affordable and excellent performable electric bicycle ever in Bangladesh? Duranta, the largest bicycle brand in Bangladesh, provides a great e-bike. The article will tell you the CB E-Fury Duranta electric bicycle price in Bangladesh.
A Duranta electric bicycle can turn difficult and long distances into brilliant fun while riding. Its amazing performance, superb capability of the system, excellent quality of all materials, and a perfect combination of battery, motor, and other instruments can offer you safe riding.
Now, we are going to tell you about the Duranta electric bicycle price in Bangladesh and more. So, without more intro, let's have a look at the main topic.
Duranta CB E-Fury Electric Bicycle
This electric bicycle comes into the market with a lot of amazing features. We mentioned them below. Explore once before purchasing.
E-Fury Motor
This e-bike comes with a 24-volt/250-watt motor. It is built-in torque-sensing technology that ensures reliable and safe hill climbing.
E-Fury Battery
The battery used in this e-bike is Lion 12 A. It takes approximately 2-2.30 hours to be fully charged. After full charging, the maximum range of this e-bike is 40-45 km.
However, it is nicely connected to the carbon frame and also removable. So, you can take an extra battery when it comes to crossing long distances.
Don't worry, its battery is available on the market. The battery of the Duranta electric bicycle price in Bangladesh is only 15,550 TK.
E-Fury Frame
This e-bike is made of an alloy frame with a carbon finish that is lightweight. The frame is not just resistant to fragility but also increases flexibility and strength.
E-Fury Fork
The fork is a hydraulic brake with a lock that is considered a good fork on the market. It is great for lessening those sudden obstacles generally found on your route or hilly tracks.  
E-Fury Braking System
This Duranta e-bike contains a hydraulic disk brake that is really very effective for entry-level riders. Because this braking system allows you to create a stronger braking force easily rather than your own hand does.
E-Fury Other Accessories
Aside from the battery, motor, and other electronic instruments, this Duranta e-bike comes with many other accessories like lights, whistles, a storage box, a kickstand, an alarm, a GPS tracking system, etc.
This electric bicycle has 8 Shimano m310 shifting gears. With the help of these gears, you can easily ride on hilly roads.
The 26 inches tire allows you a smooth ride. There is also a LED display. Here, you can find information on total distance, speed, and remaining battery charges. 
E-Fury Security System
It also has a different quality that you will never find in other e-bikes. This e-bike comes with an anti-theft system.
A tiny button is placed on the frame that can't let the wheel be rolled away when the e-bike is switched off. If anyone tries to ride it without your permission, it starts dangerous sounds and lights flashing, and these alarming signs let you know.
CB E-Fury 26 Duranta Electric Bicycle Price In Bangladesh
CB E-Fury Duranta electric bicycle price in Bangladesh is only 70,730 TK. The price is almost the same in every different gallery shop in Bangladesh.
Sometimes, I have found some shopkeepers have sold this e-bike at a 10-20% discount. In this case, the Duranta electric bicycle price in Bangladesh would be 68,000-69,000 TK.
However, try to buy this awesome electric bicycle at any national celebration. This time, you may get this one at an attractive discount price.
If any repairs are needed later on your e-bike, try to take it to their official workshop. Because local repair shops can cause more defects in your e-bike. In this case, the cost will be a little more expensive
The Place Where You Get Duranta Electric Bicycle
This amazing product belongs to the Duranta brand and can be found in any Duranta gallery shop in Bangladesh. Apart from that, you can order this e-bike from their official website. Don't worry, in both cases, prices would be the same for sure.
From the Duranta showroom or gallery shop, you have to buy this product at its particular retail price. If you want to buy it at wholesale price, you need to contact their factory in Dhaka. There, this e-bike is available at factory price.
Nowadays, e-bikes are considered the greatest blessing for our environment. Because it has no bad impact on our environment, unlike others. In addition, it is great for places where other usual bicycles can't ride. So, buy this, as Duranta electric bicycle price in Bangladesh is really close to your hand.
Hope this article will prove useful to you. Quickly get this one. If you have any more questions, or suggestions regarding this Duranta electric bicycle price in Bangladesh, please let us know in the comment section. We will help as much as possible. Thanks for being with us.