Google Voice Number Price And When Is It Free?
Google Voice Number Price is high when you want to buy it from a third-party website or service. If you are searching for a Google Voice number to buy then it could be in your mind "What is the Google Voice price?" For your personal use or for your online business management you could buy a Google Voice number from any Google voice seller. It could be also an individual or any online Google Voice buy-sell exchange. If you need you can Buy Google Voice on any of these sites. In this article mainly I focus on potential Google Voice price and where you can get it.
What is Google Voice?
Before discus into the pricing details, let's first understand what Google Voice is. Google Voice is a communication service offered by tech giant Google. It enables users to have a virtual phone number that can be used for making calls, sending text messages, and voicemails. The service is available to users in the United Kingdom and various other countries, offering a flexible and convenient way to stay connected. In this article basically, we focus on Google Voice number price details.
Is Google Voice available at no cost?
Google Voice is mainly free to use. Signing up for an account or obtaining a Google Voice number does not incur any charges. Additionally, calls made through Google Voice to numbers within the United States and Canada are free, with a few exceptions. However, placing calls to destinations outside these regions will involve some expenses.
Furthermore, it's important to note that Google primarily generates revenue not through fees or subscriptions but by leveraging "big data" advertising – and Google Voice follows this pattern. Consequently, any communication data you create or add to Google Voice is collected and processed by Google for their business operations. We simply want to ensure you are aware of this aspect.
Google Voice Phone Number Price
To get a Google Voice phone number you can visit some third-party websites that are providing Google voice phone numbers. Or if you are from the USA then you can integrate your own phone number to your Google voice. In this case, after verifying your own phone number you can get a USA virtual phone number for your Google Voice account. You can generate any area code after verifying his or her own actual phone number.
Though Google does not allow anyone to sell Google Voice products buy or sell. It is strongly prohibited by Google's terms and policies.
Google Voice Phone Number Price USA
So if you are from the United state of America then you have no cost for a Google voice phone number. But if you are outside of the USA then you need to buy a Google Voice phone number or Google Voice account from anyone who is selling Google Voice through the web. So, in this case, Google Voice phone number price could vary by supplier. Basically from third-party Google Voice supply prices vary with supply and demand. Check one or two websites for Google Voice phone number prices.
Google Voice Phone Number Price single
If you want to know the Google Voice phone number price single then today's price is $4 to $7. But sometimes per sing Google Voice price goes from $1 to $2. As I mention Google voice prices depend on supply and demand. When it comes to buying bulk Google Voice then the price is cheap. So, if you want to get a single Google Voice our site in the USA then you can also create it using Google Voice VPN or simply buy one Gvoice. If you are interested to see the single Google voice number price then you might check the link.

Google Voice Phone Number Price Bulk
A number of people out of site USA want to get bulk Google Voice. In this term, you need to buy from an online Google Voice selling agent who is creating bulk Google Voice and selling at a cheap price. Many social media account verification and online business communication. If you want to order 100 Google Voice to 500 then the price compares with %25 or even %50 less. For Google Voice phone number price in bulk is $1 or $2 and delivery time is 1 hour to 12 hours. If you are searching Google Voice Phone number prices in bulk then check the link.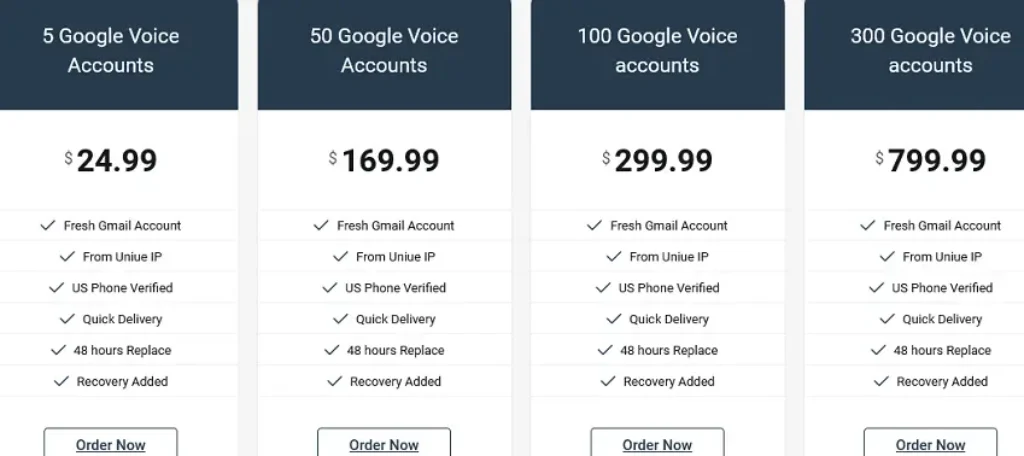 Google Voice Cost: Is it Free?
One of the most commonly asked questions about Google Voice is whether it is a free service. The answer is yes, Google Voice is free to use. Users can sign up and get a virtual phone number without any cost. However, it's important to note that while primary usage is free, there might be some charges associated with certain advanced features or international calls.
Understanding the Cost to Buy a Google Voice Number
While obtaining a Google Voice number is free, some users might require a custom or specific phone number. In such cases, there could be a one-time fee to purchase a unique Google Voice number. The cost to buy a Google Voice number can vary depending on the selected digits or the availability of premium numbers. It's advisable to explore the options and determine the cost before making a purchase.
Google Voice Price Plans and Features
Google Voice offers two primary pricing plans: "Pay as You Go" and "Google Voice Pro." This price is only for those who are directly using Google voice pro service.
1. Pay as You Go
The "Pay as You Go" plan is ideal for users with light communication needs. It charges a reasonable rate per minute for domestic and international calls. This plan is suitable for occasional users or those who prefer a flexible approach. Google Voice price as pay as you go service is also popular.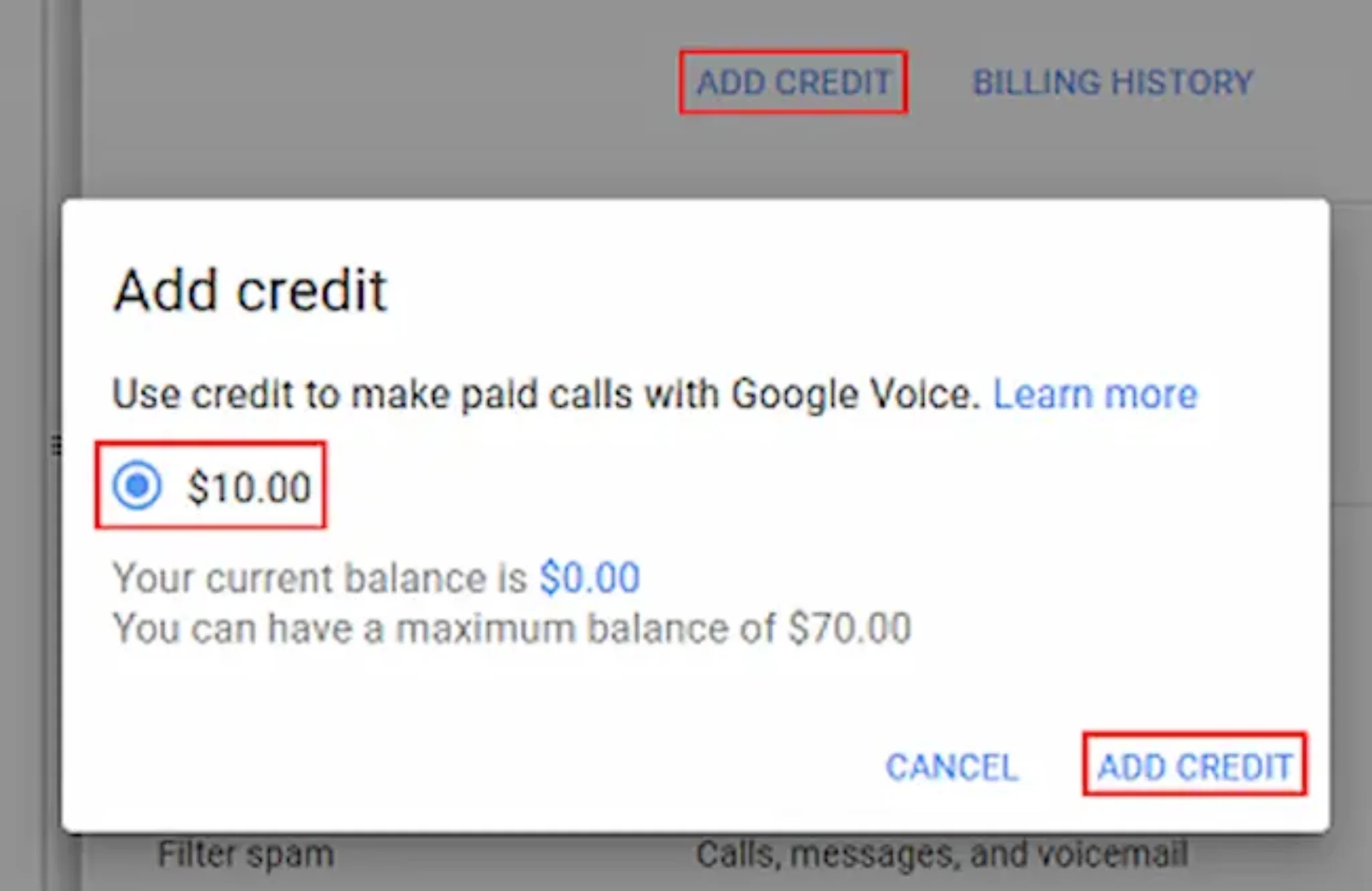 2. Google Voice Pro
For users with more extensive communication requirements, the "Google Voice Pro" plan provides a subscription-based model. It offers a set monthly fee with unlimited calling and texting to specific countries. This plan is well-suited for businesses, freelancers, or individuals who rely heavily on voice communication.


Google Voice Number Price Plan
The above pricing gives you the opportunity to use Google Voice premium service. But if you want to get a customer number from Google Voice then you can choose only custom area code. Check the pricing table of the Google Voice account and credits. Lets more about Google voice number price.
Features and Benefits of Google Voice
Google Voice comes with an array of features that enhance the communication experience: We focus here on Google voice number price.
1. Call Forwarding
Users can forward calls from their Google Voice number to any other phone number, making it easy to stay accessible even when on the go.
2. Voicemail Transcription
Google Voice automatically transcribes voicemails, allowing users to read their messages rather than listen to them. Google voice number price is cheap as per voicemail transcription.
3. Text Messaging
The service supports both SMS and MMS, enabling users to send and receive texts, images, and videos. So for text messaging, Google Voice number price is important to know.
4. Call Screening
With call screening, users can view the caller's information before answering the call, filtering out unwanted or spam calls. Call screening services are included in the Google Voice number price list.
5. Integration with Google Services
Google Voice seamlessly integrates with other Google services, such as Gmail and Google Calendar, ensuring a unified communication experience. Gvoice is really good for Google Voice number price and cost condition.
Google Voice Price in Bangladesh
As we research a number of freelancers working on Google Voice creation in Bangladesh. They use VPN to create USA email and create Google Voice as US citizens. With USA IP online workers from BD create a Google voice number and sold outside of Bangladesh. Basically, they use different methods to create Google Voice accounts. As I ask a Google voice creator in Bangladesh the process is first they create or buy a USA Gmail or iPhone create Gmail as a US server or IP.
Google Voice OTP and Pin
After then they visit the Google Voice site and add a virtual phone number with the original USA phone number and OTP code. It's called Google Voice OTP or pin to verify a virtual Google Voice number. Sometimes they collect through PIn to verify OTP codes from social media USA people. Sometimes they buy USA number OTP codes through online USA virtual portal sites. After making Google Voice they sell it for 200 BDT to 500 BDT. So they earn enough with a Google Voice account. So the Google Voice Price In Bangladesh is high. Monthly many Google Voice workers in Bangladesh are 50,000 BDT to 100,000 BDT.
Conclusion
Here we mention the Google Voice price plan and Google Voice number price from other sites. Google Voice is a valuable communication tool that offers a range of features and the flexibility of a virtual phone number. With its free basic service and various pricing plans, users can tailor their experience to suit their needs. Whether for personal use or business purposes, Google Voice provides a cost-effective and reliable solution for staying connected. Hopefully, you have a great idea about the Google Voice number price.