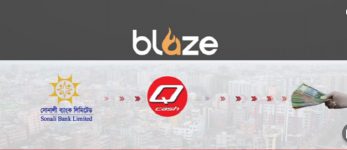 Send Money Through Blaze in Bangladesh. Very Easy.
There has never been a better way to bring remittances from expatriates to Bangladesh. Now, you can Send Money Through Blaze in Bangladesh. Although the economy of Bangladesh is very much dependent on remittances, remittance fighters often get in trouble as there is no system to bring these remittances to the country. That's why there was always the expectation of a reliable fast money transfer medium.
Eventually, that hope may be fulfilled. Now it is possible to bring money to Bangladesh from any country in the world through the newly launched platform Blaze in just 5 seconds. So it is easy to Send Money Through Blaze in Bangladesh.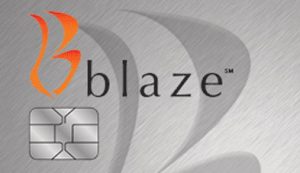 What is Blaze

Blaze is a digital payment network platform in Bangladesh. At present, it is not very safe to go around with cash.
Due to this everyone is giving more importance to the cashless money transfer system.
And that's why bKash, Nagad, Rocket, and many more are coming to the market. But all of these facilitate money transactions locally.
No such medium has yet been created in Bangladesh for international money transactions. And that's why Blaze has come to the market this time on the initiative of Sonali Bank.
Though the name 'Sonali Bank' comes in front, Bangladesh's Prime Minister's ICT adviser Sajeeb Wazed Joy and Minister of ICT Ministry, Junaid Ahmed Palak do the main thing. It is such a platform with the help of which it will be possible to bring money to Bangladesh from any country of the world in a very fast time.
Through this, transactions will be possible 24 hours a day and 7 days a week and Blaze Money can be converted into cash by visiting any bank in the country.
Much like PayPal or other payment transfer platforms. For those who don't know about PayPal, bKash or other mobile banking institutions would be a good example.
Money can be transferred from one district to another through mobile banking. Similarly, money can be sent from one country to another through Blaze.
Cost of Send Money Through Blaze in Bangladesh
Blaze is bringing a lot of modern facilities, this is the expectation of ​​everyone. There is no word yet on the cost of Blaze's money transfer. So have fun to Send Money Through Blaze in Bangladesh.
However, the idea is that it may be a little more than usual because people will accept the cost, even if you think of the other benefits.
It may be the other way around. Because, the Blaze payment network is coming to the market of Bangladesh with an emphasis on remittances, the government and the bank authority must keep in mind the good side of the expatriates.
No information has yet been shared by the authorities about the cost of transferring money with the help of Blaze.
How Much You Can Transfer Through Blaze
So far no verified information has been released about Blaze. However, as far as is known through various sources, it has been said that you can transfer up to BDT 5 lakh through Blaze together.
Then in the second step, you can transfer another five lakhs, which means you can transfer a maximum of five lakhs each time. There is also a 2% incentive Blaze prescribed by the government.
In other words, the incentives given by the government to the expatriates will be given even if the money is transferred through the glaze.
How Blaze Works
Blaze is usually invented with expatriates in mind, but with this platform, you can also transfer money through Xoom, Tranglo, Skrill, Taptop Send, Sfx, and Trulioo.
First, the dollar will be converted into Bangladeshi taka through Sonali Bank. Then with the help of QCash, it will be possible to transfer the money through 36 banks in Bangladesh. In other words, if you transact through Blaze, you can withdraw money from any bank.
Blaze App
As of this writing, no Blaze and HomePay apps have been published on the Google platform. It is still in process.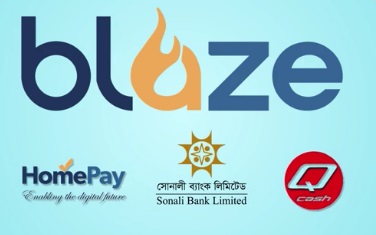 However, after August 25, those who want to use Blaze will be able to take advantage of Blaze through these platforms Xoom, Tranglo, Skrill, Taptop Send, Sfx, and Trulioo.
And after the app is published, you will be told how to transfer money to Blaze and all the other important information.
Our Opinion
So far our article about Blaze is so far. Hope you got the basic idea about Blaze after reading this article and also know about how to Send Money Through Blaze in Bangladesh.
But if you want to know more about it and want to know about the different product's price in Bangladesh, then stay with our website. We regularly publish articles on these topics. Thanks for reading now about Send Money Through Blaze in Bangladesh.